A very healthy, enjoyable dish if you're looking to make that boring old chicken a bit different.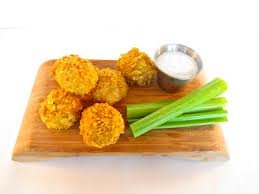 Serves: 1
Preparation time: 5 minutes
Cooking time: 20 mins approx
Ingredients:
2 chicken breasts diced
2 eggs whites
Small bowl of coconut flour
Mixed herbs
1 large Sweet potato
1 handful of spinach/kale
Dressing: Homemade salsa or guacamole
Directions:
Dip each chicken piece into a bowl of egg whites, making sure you cover the whole thing. Then place into the bowl of coconut flour and herbs, again, making sure to give it a good covering. You can add other ingredients to the egg mix, like chopped onions, chilli etc. At this point you should set the oven to gas mark 6/7 and let it warm up. Peel your sweet potato, chop it into small wedges, place them all onto a tray and cover them with paprika, salt, pepper and olive oil. Heat a frying pan with coconut oil in and add in all the chicken bites. With the frying part of this recipe, we are just trying to lightly brown the outside of the bites making them nice and crispy but not fully cooked.
Once the bites are slightly crispy, it is then time to put them in the oven for 15 minutes. At the same time you will put the wedges into the oven. Prepare your spinach or kale as and how you like it.