Ingredients
| | |
| --- | --- |
| 30g | Carrot |
| 2 | Egg Whites |
| 15g | Wholemeal Flour |
| 1 tbsp | Skimmed Milk (can also use almond or soy) |
| 1 tbsp | Dessicated Coconut |
| 1 tbsp | Brown Sugar Stevia Blend (Tate & Lyle – can find it by the sugar in big supermarkets) |
| 1/4 tsp | Baking Powder |
| 1/4 tsp | Baking Soda |
| 1/4 tsp | Cinnamon |
| – | Vanilla Extract |
Nutritional Info
(per serving)
Calories 129
Protein 10g
Carbohydrates 20g
Fat 1g
Fibre 1g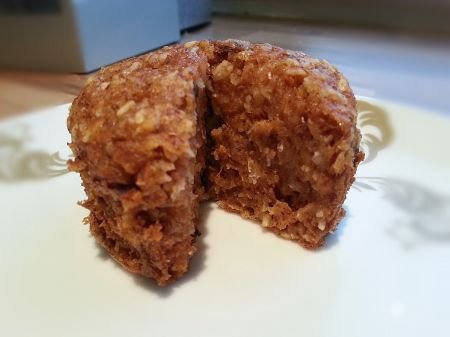 Serves 1 / 25 minutes
I've found it difficult to find ideas for sweet treats that aren't designed for 4+ people. Knowing me I would make it with good intentions to split it into portions, then end up eating it all! Which is why this guilt free carrot cake is perfect as it is only a single serving!
Directions
Preheat oven to 200C
Spray ramekin or similar small oven proof dish with cooking spray spray or grease with a small amount of butter.
Combine dry ingredients and wet ingredients separately then mix together and place in greased container.
Bake in the oven for 15 minutes then remove and allow to rest for 5 minutes. Enjoy!